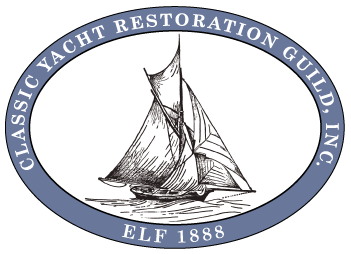 "Ships are the nearest
things to dreams that
hands have ever made,
for somewhere deep in
their oaken hearts the
soul of a song is laid."
Robert N. Rose

About Yacht Elf

---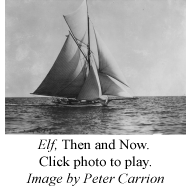 Elf is an 1888 Lawley-built (Boston) '30-footer' class cutter and has been a continuous part of American maritime culture for more than a century. She was built by George Lawley & Sons for a Mr. William H. Wilkinson in 1888 as a state-of-the-art racing yacht. Elf was built at a cost of $3,500 to be a fast racing yacht, with a unique and impressive sailing rig that long ago vanished from the horizons of North American waters. She was launched in the spring of 1888, the same year that saw the founding of the National Geographic Society and other notable cultural events, such as the abolition of slavery in Brazil and the Convention of Constantinople, which sealed Britain's role as the protector of the neutral Suez Canal (completed in 1869).
Elf sported a topsail that reached 68' 6" into the air to grab every bit of wind available, and like other racing vessels of her day, her lines and rigging were adapted and innovated from successful merchant ship designs. Following a lively career as a gaff topsail cutter rigged racing yacht, Elf pioneered off-shore yacht cruising in 1893, by being the first small craft to successfully cruise round-trip from Marblehead, Massachusetts to Halifax, Nova Scotia, an achievement documented by Henry Howard in his 1946 autobiography. Some of Elf's rigging specifications are recorded in a notebook from the Lawley Boat Yard in 1888: Page from Lawley Yard dated 1888 - Elf's Stats
Elf's hull specifications are as follows:

| | |
| --- | --- |
| LWL | 28' 8" feet |
| LOD | 35 feet |
| LOA | 68 feet (estimated with bowsprit and boom in place) |
| Draft | 6' 6" feet |
| Displacement (steel keel) | 6,700 lbs + Hull |
| Displacement (lead keel) | 9,600 lbs + Hull |
| Rig | High gaff topsail cutter |
| Sail area | 1,397 sq ft (1889, mainsail and jibs) |
| Sail area | 1,681 sq ft (1889, mainsail working topsail, spinnaker) |
Elf was built at a time when George Lawley and Sons was one of several companies working to fill a fleet of small racing yachts, mostly cutter-rigged, to satisfy a growing demand among sailing-minded industrialists for ever faster boats, having modest hull size and extraordinary rigs. George F. Lawley was known to have been a pupil at the John Hawes Fund School, in South Boston in the 1870's, and studied naval architecture under John L. Frisbee. The Lawley yard built boats to their own designs, as well as to designs by the prominent designer Edward Burgess. Some of Elf's sister yachts, built within a few years, and sailed off Boston, are seen in contemporary photographs, and include the yachts Evelyn, Saladin, Hawk, Carmilla, Mildred, Hilda, Beatrice, Kathleen and Saracen. The first case of extreme over-canvassing is reputedly the yacht Kathleen, a "30-footer" designed by William Gardner and built in 1889. Like Elf, she sported a "clipper stem", which had not been widely used on earlier yachts but soon became the fashion on small yachts.
After her racing career ended Elf was known to regularly cruise up and down the northeast, and later between New England and the Bahamas. She was formally entered in the early 20th century editions of Lloyd's Register of American Yachts. During the First World War, her externally fitted lead ballast was given up to support the war effort, and eventually a steel keel was fitted; her sail area was reduced and her rigging was modified. She underwent several name changes over the years, including Blue Cloud, Flying High, and Paz. Elf was then purchased in 1932 by Gus and Vida Van Lennep, who founded the Chesapeake Bay Maritime Museum in 1965 and who have ardently supported Elf's restoration. Rick Carrion, founder of the Classic Yacht Restoration Guild (CYRG), acquired the boat in 1971, in a somewhat dilapidated condition that belied her rich history, and has since championed her restoration under the expertise of master boat builder Graham Ero, proprietor of Graham Ero Wooden Boats, in Still Pond, Maryland. In recent years the CYRG, under Rick's direction, has been proud to have her listed on the National Register of Historic Places. In 2005, Rick gave a presentation about the restoration work to the Union League - you can see it here: Elf Restoration PDF
Photographs of the progress made during 2006-2007 period as well as historical photographs can be found here: Elf Photos
The Woods of Elf
Like any other boat, Elf was built with a collection of different kinds of woods, each selected for its unique characteristics. Sixteen different woods were used (not counting the white pine tooth picks in the galley!), some farily common, some fairly exotic.
Angelique - Dicorynia quianensis
Very dense, beautiful tropical hardwood
Used for: companionway, skylight, forward hatch, cockpit, bulwarks cap trim
Source: donated by the Philadelphia Ship Preservation Guild
Ash - Traxinus americana
Strong and good looking
Used for: Galley faucet
Source: Harvested from Rick Carion's family farm in Cecil County, MD
Atlantic Northern White Cedar - Chamaecyparis thyoides
Very rot resistant softwood. Expands when wet to seal joints
Used for: stopwaters, mast wedges
Source: Coastal New Jersey
Black Locust - Robinia pseudoacacia
Very strong, 50% stronger than white oak. Very rot resistant.
Used for: All structural members. Futtocks, stem, rudder, knees, deck beams, cleats, mast partners, transom, transom cowering board, anchor locker, sampson posts, courner posts, tank supports, tiller
Source: Harvested from Rick Carion's family farm in Cecil County, MD
Chestnut Oak - Quercus prinus
Very strong and rot resistant as well as a handsome contrasting wood
Used for: Gally, head, deck hangers below covering boards and king planks
Source: North shore of the Sasafrass River, MD from a 50" diamter tree
Cypress - Cupressaceae
Strong, long fiber, very rot resistant
Used for: interior hull ceiling
Source: Eastern Carolina's
Eastern Red Cedar - Juniperus virginiana
Aromatic, sweet smelling wood when warmed
Used for: compartments around engine
Source: Harvested from Rick Carion's family farm in Cecil County, MD
Lignum Vitae - Guaiacum officinale
Very dense, self lubricating hardwood
Used for: turning block cheeks

Mahogany - Swietenia mahagoni
Beautiful hardwood
Used for: compass box
Source: Honduras
North American Black Cherry - Prunus serotina
Very beautiful wood. Several bookmatched bulkheads were installed on Elf's centerline.
Used for: Interior cabinetry, firgurehead
Source: Harvested from Rick Carion's family farm in Cecil County, MD
Purple Heart - Peltogyne paniculata
Dense, tropical hardwood with a deep purple color
Used for: turning block spacers

Sasafrass - Sassafras albidum
Light weight, strong, rot resistant. Good looking wood. Very aromatic
Used for: Bunk boards below cushions in main salon.
Source: Harvested from Rick Carion's family farm in Cecil County, MD
Sitka Spruce - Picea sitchensis
Very strong, light, long fiber wood
Used for: Spars - mast, boom, gaff, bowsprit, topsail jack yard, topsail club
Source: Sitka Alaska
Southern Long Leaf Yellow Pine - Pinus palustris
Strong, very resinous and rot resistant. The original planking material used in 1888.
Used for: Hull planking
Source: North Carolina northern range. Still available in Georgia
Western Douglas Fir - Pseudotsuga menziesii
Quartersawn, old growth. Good traction for deck planking
Used for: deck planking
Source: Oregon, Washington state
White Oak - Quercus alba
Traditional boatbuilding wood for structural members
Used for: covering boards, king plank
Source: North shore of the Sasafrass River, MD