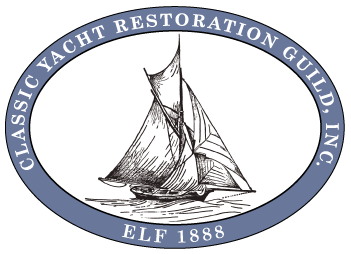 "All I ask is a tall ship
and a star to steer her by"
John Masefield
About the Guild

---
The CYRG was founded in 1982 by Rick Carrion to foster the traditions associated with American maritime culture and boat building, particularly those associated with the northeast United States and the Chesapeake Bay.
Participation by CYRG members in on-going projects is highly encouraged!
The CYRG's current project is the preservation of the oldest known small yacht in America, Elf, a 30-foot class wooden sailing yacht built by George F. Lawley & Sons in Boston, Massachusetts in 1888. Elf's complete restoration to her original condition fulfills a mission of history and cultural awareness in the Chesapeake Bay community. She has been a continuous part of American maritime culture for over a century.
The Guild publishes a quarterly newsletter, The Helm, to advise the membership on the status of on-going projects.
The Classic Yacht Restoration Guild, Inc. is a 501(c)(3) non-profit organization.
Guild Personnel

---
Board of Directors
Rick Carrion, President
Steve Remillard, Treasurer
Neal Carter
Greg DeCowsky
Rick Otis
Carl Pergler

Technical Consultants
Jay Aigeltinger


Editor, The Helm
Ray Zeigler